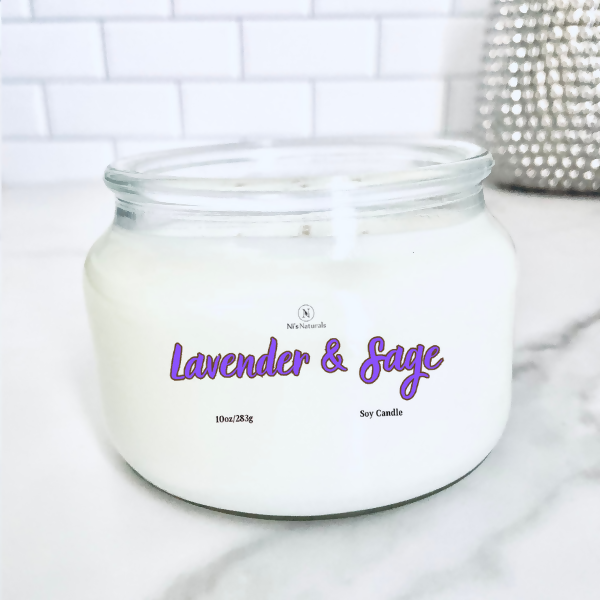 Lavender & Sage Soy Candle
Save up to

25

%
Save

26

%
Original price
$18.99
-
Original price
$31.99
Our Lavender & Sage Soy Candle is meticulously crafted using high-quality, all-natural ingredients, ensuring a clean and eco-friendly burn. Made with phthalate-free fragrance oils, this candle provides a delightful and safe aroma for your home.
The enchanting blend of lavender and sage fragrance oils creates a calming and serene atmosphere. The soothing scent of lavender promotes relaxation and stress relief, while the earthy aroma of sage instills a sense of clarity and tranquility. Together, they form a harmonious fragrance that elevates your mood and transforms your space.
Our candles are made from 100% soy wax, derived from soybeans, which ensures a cleaner and longer-lasting burn compared to traditional paraffin wax candles. Soy wax candles produce less soot and burn at a cooler temperature, allowing you to enjoy the calming scents for an extended period.
We are dedicated to offering products that are not only delightful for your senses but also kind to the environment. Our Lavender & Sage Soy Candle is made from renewable resources and is biodegradable, making it a sustainable and eco-friendly choice for your home.
This candle is an ideal addition to any room or occasion, whether you're looking to create a relaxing ambiance for a quiet evening at home, set the mood for a romantic dinner, or provide a soothing scent for your meditation or yoga practice. Embrace the calming and aromatic properties of our Lavender & Sage Soy Candle and experience the remarkable difference that natural ingredients and a clean burn can make for your home. Indulge in this eco-friendly and delightful ambiance enhancer, and elevate your relaxation and self-care routine to new heights.


Ingredients: Soy wax, Phthalate-free Fragrance oil
10oz jar dimensions: 3.5" H x 2.4" W; Weight: 14.1 oz
16oz jar dimensions: 4" H x 2.75" W; Weight: 28 ounces