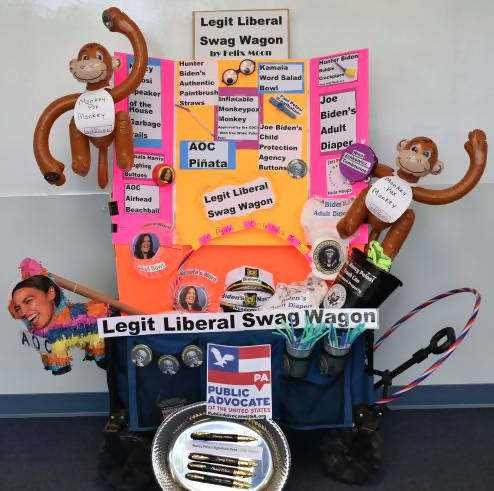 Felix Moon Legit Liberal Swag Wagon Bundle
Save

0

%
Save %
Original price
$70.00
-
Original price
$70.00
This is the Liberals dream wagon right here.
Felix Moon's official wagon which includes
AOC Pinata

Joe Biden's Child Protection Agency Button

Joe Biden's Adult diapers

Hon. Nancy Pelosi Speaker of the House Garbage Pails "government property"

Inflatable  Monkeypox Monkey "Approved by the CDC"  approved by the CDC

5 woke poke pens

Hunter Biden's medical Pipes

Hunter Biden's Authentic Blow straws

Kamala Word Salad Bowl

Jen Psaki, circle back to you hula hoops

AOC Airhead Beachball

Kamala Harris Laughing Buttons

Paul Pelosi Kazoos Breathalizer

Nancy Pelosi Sobriety Checkpoint Vest

Biden Naval Academy Hat (he claims to have been nominated to the Naval Academy)

Nina's Jankowicz Tamborine

Adam Shift's Eye Glasses
See more photos here!
https://www.publicadvocateusa.org/photogallery/gallery.php?id=956
Cost $50 Plus 20 Dollars shipping, a total of $70
(Special Note: Nancy Pelosi Pens not included. due to Nancy Pelosi Pens being on high demand, this product is only available by special orders. 703-845-1808)  
(Special Note 2: The products below are used for parody purposes only)